Everyone who has played any form of cricket has had this dream. Playing for your country. Hitting a six off the very last ball to win the match. Heck, we have even made a movie of it. Bhuvan hitting the last ball over the boundary to save 3 years' worth of tax for his village in the climactic scene of Lagaan. Cricket could never have had greater context, an increasingly elusive commodity in modern times. But I digress.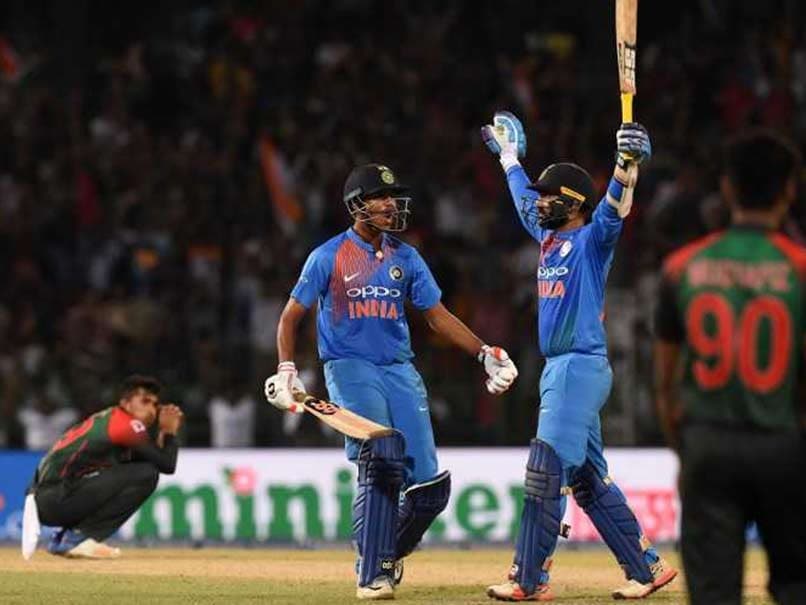 18th March, 2018. India vs Bangladesh. Dinesh Karthik lofts the last ball over covers to win tournament for India. Bringing a sensational end for what had been a pretty insipid tournament. 
It was one of the moments to cherish. And a reminder to myself why I love this game so much. Don't remember when I was last jumping up and down during or after a game. And I had only watched the last 3 overs of this game.
In an age of cricketing overdose and no "context" to keep the fans engaged, there came a T20 tri-series (!), in Sri Lanka (!!), with Bangladesh (!!!), where India rested their stars (!!!!) and still sailed through comfortably. At the start, the most interesting bit of the tournament was finding the channel telecasting the tournament– Discovery Sport & Rishtey Cineplex!!! 
But things got a bit spicy as the tournament progressed, mainly due to the antics of the Bangladeshi players during and after their last game with Sri Lanka. Their "naagin dance" celebrations managed to piss off the Sri Lankan fans to such an extent that they came out in vociferous support of India (!) in the Final. Indian teams over the years have had vocal support in all parts of the world, mainly from our expat population. (Benefits of having over 1.3 Billion of us!!!). But never ever have we had the local crowds supporting us in such a manner!
This could be the defining innings for Karthik in an era of abundant wicket-keeping talent. Having made his debut in 2004, has been in and around the Indian team for all this time. Many a times playing as a pure batsman and only on occasion getting to keep wickets in Dhoni's absence. No one has ever doubted Karthik's keeping talents. Good to see this unsung performer finally getting his share of the limelight.