England fans, no matter how strong of a position England find themselves in, can never be assured that their team will finish on top. Yesterday's result was particularly painful to the England team. This was a match that England needed to win, not only to put them 1-0 up in the ODI series, but to help them put the abysmal Australian tour behind them. It was always going to be difficult, but there was never going to be an easier chance than the one they were presented with. A weakened West Indies side with injuries to Gayle and Samuels, a number of new players in the side who didn't play major roles in the defeat to the Aussies and also the only two players whose reputation had been enhanced during the Ashes – Broad and Stokes. On paper, England looked to be in a strong position.
England started exceptionally well. Broad, who had taken on the captaincy for the first time in ODI cricket, employed the right tactics, bowling the spin of Joe Root, James Tredwell and debutant Moeen Ali early in the innings to the Windies top order. England dominated the first 30 overs with tight lines, sharp fielding and a high intensity. It all made for an impressive picture. However, it wasn't to last. The all important death overs, where the game is won or lost, were England's undoing. As Bravo and Sammy started swinging the pendulum, England couldn't find an answer. Plans were telegraphed by field placings and there was little variation allowing Bravo and Sammy to settle, able to choose their hitting areas.
It was a similar story in the second innings. England were off to a great start, with Lumb and Ali's partnership reaching 96 at a reasonably quick rate. Luke Wright's ugly innings was cut short, bringing Joe Root to the crease who played in a restrained and controlled manner. Lumb went on to reach his hundred but, the required rate started to rise. Pressure from the Windies bowlers brought about Lumb's wicket and from then on runs became hard to find. The mystery spin of Sunil Narine further added to England's problems, with no one picking him with any conviction. The timing of the chase was all wrong. The batsmen knew that Narine would be a problem but they weren't proactive enough to realise they had to attack the pace bowlers early. Wickets fell, the run rate rose, and before England knew it, the match was lost.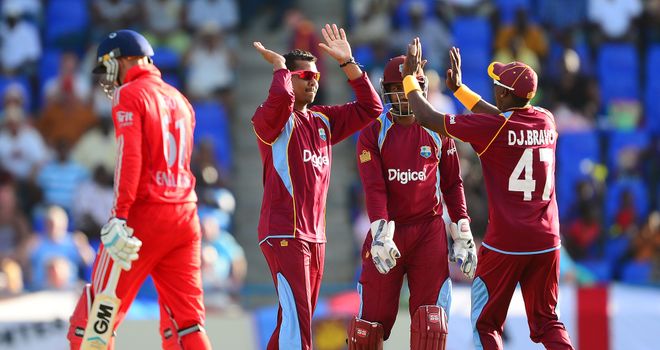 In both innings, England started remarkably well. They looked professional, dominant and sharp. Despite this, they fell away dramatically. It was almost as if England had forgotten how to win. Death bowling, crucial to winning one day matches, England couldn't do it. Chasing down a target, crucial to winning one day matches, England couldn't do it. One significant issue was that inexperience flooded the England team. Knowing when to try to push the required rate down, only come with experience. Knowing how to use slower balls, yorkers and set fields, only comes with experience. The lack of experience was a result both of the destruction of the experienced players in Australia, and the preparation for the World T20 in Bangladesh of this year. What is evident is that England, if they are going to stick with the current group of younger players, need to learn how to win again.
Adam Lewis for DieHard Cricket Fans