Its probably the littlest trophy in the whole sporting world. Certainly one of the oldest. More have been written about the Ashes than any other sporting contest. And why not? After all it carries a little poem too.
When Ivo goes back with the urn, the urn;
Studds, Steel, Read and Tylecote return, return;
The welkin will ring loud,
The great crowd will feel proud,
Seeing Barlow and Bates with the urn, the urn;
And the rest coming home with the urn.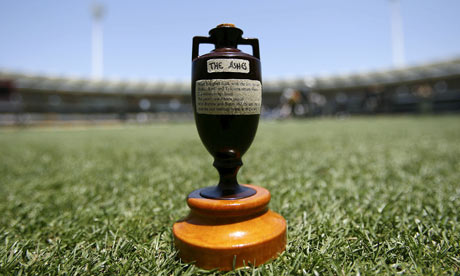 Its been a long buildup to the double headed Ashes that are going to be played over the next 8 months. 10 Tests between the oldest rivals.
It had been a long wait for the Ashes to commence. England had to play a 2 Test series with the Kiwis, followed by a 3 ODI series against Kiwis, followed by Champions Trophy, and a 2 T20 series against the Kiwis. Australia on the other hand had an even more action-packed start. They played(?) the Champions trophy, then lots of internal games, chopping and changing players, removing the coach, suspending brawling players.
Everyone expected England to turn up and roll over the Aussies. But in the greater interest, the Australianism is still there (thankfully). The greats may have gone, but some of the fight is still there. Inside 2 days of cricket, we have already seen many specials. Peter Siddle's fiver, James Anderson bowling Clarke, Phil Hughes & Steve Smith battling it out, and above all of them Ashton Agar. There is something about a 19-year old, making his debut, coming into bat at No. 11 with his team in deep trouble and then smashing a 98 breaking hordes of records. Its the kind of dream every kid (or even adults) aspiring to be an international cricketer has. It makes one fall in love with the game again after all the spot-fixing scandals.
A 130+ years rivalry, historic context, a good fight and a fairytale story to begin the proceedings.
Ashes - I already like you :)
Nishant Kumar for DieHard Cricket Fans